DETAIL PRODUCTS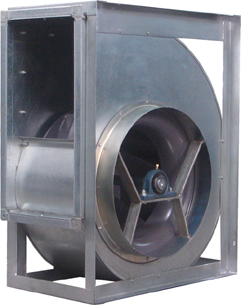 VBS Series
Belt Drive Centrifugal Fans
Backaward curved blades, single inlet - VBS Series
introduction
VBD series are single inlet centrifugal fan with backward curved blades. These are suitable for supply or exhaust application in industrial and commercial buildings.
These series are available in eighteen (18) standard nominal diameters from 200 up to 1400mm
Construction
Impeller, The impeller has backward curved blades manufactured from mild steel finished with polyester paint finish. All impeller are statically and dynamically balanced to ISO 1940 standards
Casing, for all sixes except 1120 and above, the casing is manufactured from high quality galvanized sheet steel with the casing fixed to the side plates in lock form system. For size 1120 and above, the casing is manufactured from mild steel finished with polyester paint coating.
Frame, The frame is manufactured from galvanized angular bars, they are manufactured with section of steel. For size 900 up to 1400. The frame finished with polyester paint finish.
Bearings, All bearings are either deep groove ball bearings type sealed at both sides. The bearing are lubricated for life and maintenance free. If lubrication is necessary, it is recommended to use a lithium base grease suitable for all temperatures within the operational limits.
Shaft, The shaft are C40 carbon steel using automatic process for positioning and keyways cutting. All tolerance are 100% check to ensure precision fit.
FAN Rotation and discharge
The direction of rotation is determined from the drive side of the fan
Motor Position
Location of the motor is determined by facing the drive of fan and designating the position by letter W,X,Y or Z
VBS series
- compact design for space saving installation
- High efficiency operation for economic running costs
- Low operational noise levels and vibration free running
- wide volume range and high pressure development
- design for flexible applications
- super quality for long life
V Type
(VSBS models)
This model are manufactured with a special frame with two bearing fixed externally to the airflow eliminatign any obstruction to the inlet and allow operation with air temperature up to max. of 180 degrees celcius
Please Fill the Form to download the specification !!